Navigating a website with breadcrumbs
A breadcrumb displays the path to the current page, providing another type of site navigation. A site visitor can click any link in a breadcrumb trail to jump to that page. For example, if a breadcrumb trail is A > B > C > D > E, a site visitor can click B and jump directly to that page.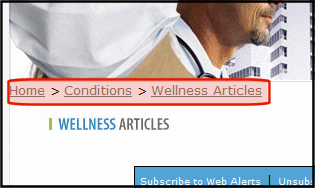 You can create breadcrumbs based on either a site visitor's navigation history or the sitemap of your website.
History. Display a trail of recently-visited pages.

NOTE: There is no setup in the Workarea for history breadcrumbs.

To create a history breadcrumb trail, you place a BreadCrumb on each Web form on which you want to display the trail. (To ensure that a breadcrumb trail appears on each Web page, add a BreadCrumb server control to every Web form in your site.)

Sitemap. Display a site path to the current page.

Sitemap breadcrumbs always show the same path to a page, regardless of how it was reached. You can use sitemap breadcrumb information to deploy a site map.

Because you determine the organization of a sitemap breadcrumb, you must define the trail in the Workarea. To do that, see Creating a sitemap breadcrumb trail.

See the FolderBreadcrumb about how to place a sitemap breadcrumb on a template.