Sources
The Sources view shows the sources (URLStands for "Uniform Resource Locator". Also known as a web address such as http://world.optimizely.com. origins, such as baring.epi-us.net/) of content items. If a new source is added, its content is ingestedThe process of gathering topics for analysis. For example, if a new URL is added to your website where Content Recommendations is implemented, that content is ingested into the system. If content changes after it was ingested, you can reprocess the content. and processed. You can filter and save Sources views for frequent use, and share a view with a linked URL. Saved filters are shown in the All Sources menu.

Adding an RSS feed
An RSSStands for "RDF Site Summary", also known as Really Simple Syndication, is a standard for distributing information from one website to another. Often used for distributing news feeds. feed (such as http://www.optimizely.com/?feed=RSS) has an Active/Paused toggle button to activate the source.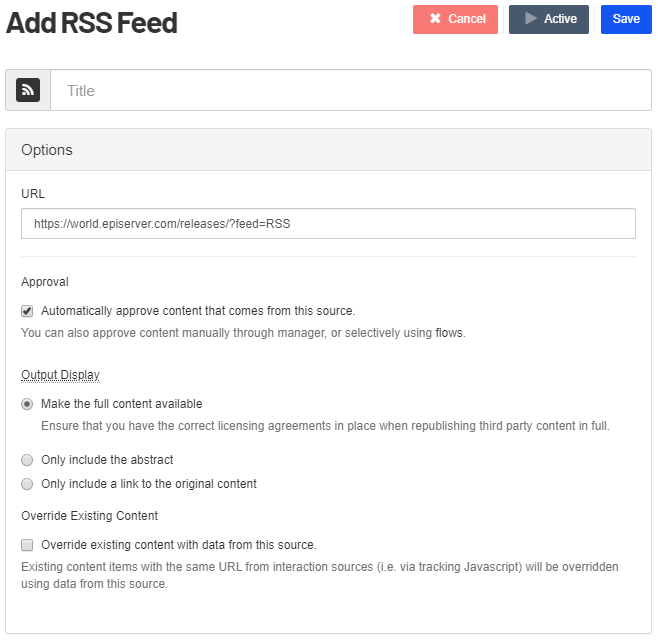 Title. Enter the name of the source from which you want to extract content.
Approval. Enable to automatically approve content from the source.

Unapproved content interactions are still tracked and contributes to profile optimization. However, they cannot appear as a recommendation to a user within a widget.

Output Display. Select the type of output you want to extract from the source.

Make the full content available
Only include the abstract
Only include a link to the original content

Override Existing Content. If a piece of content is ingested from another source, enable this option to override existing content with potentially new data from the new source. This saves space at the expense of losing access to older content.
When you click Save, the source is added to the list.